Hello from Oglala Lakota County Superintendent, Connie Kaltenbach
Hello!
My name is Connie Kaltenbach and I am honored and humbled to be serving as the Oglala Lakota County School District Superintendent.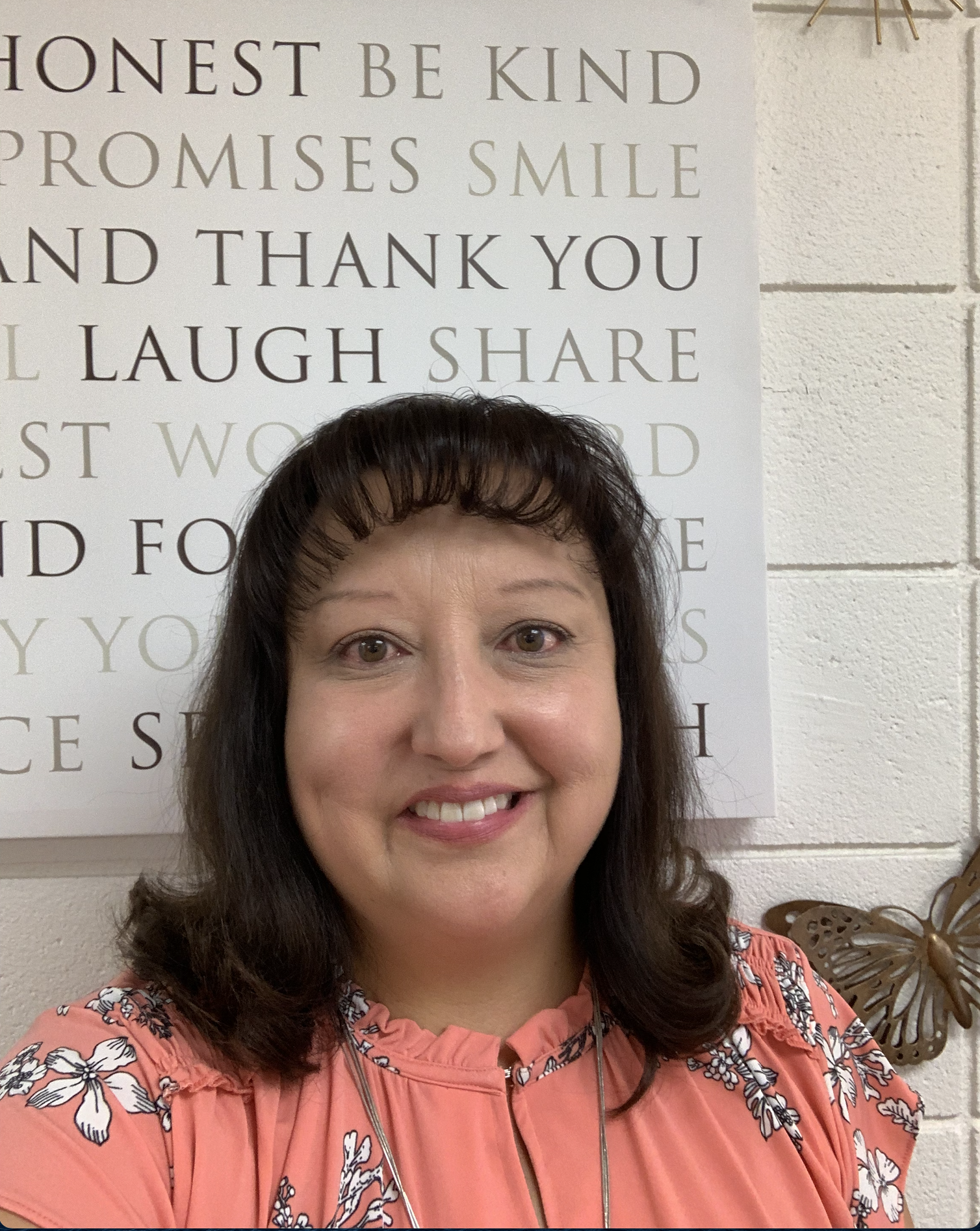 I am a member of the Oglala Sioux Tribe. My dad, myself, and two of my children all took our first breath at the Pine Ridge Hospital on the hill. My granddaughter is the fifth generation in my family to attend school in Lacreek District at Martin Grade School.
I graduated from Oglala Lakota College with a Bachelor's Degree in Education. During my early career, I was a teacher at the Wolf Creek School. I returned to school, completed my Master's Degree in Educational Administration, and was selected to be the Batesland Principal. I served in that role for 10 years and moved to the District office as the Director of Curriculum, Instruction, and Assessment for the next 5 years. I went on to get my Specialist in Education Administration--Superintendent from the University of South Dakota. GO Yotes!!
This is my first position as a Superintendent. I want to participate in district events and be a great communicator for the schools to operate to the best that they can. I want students to be safe and successful.
You will hear my voice on Sunday nights when I do the Sunday night call. Additionally, this website will continue to grow and expand for easy access to school information and upcoming events.
That's me. You can call me Connie.
LEADERSHIP: We have a great school board helping lead our district towards success. Bryan Brewer, Robert Two Crow, Debbie Blue Bird, Chuck Conroy, and Angie Eagle Bull are serving this year and bringing a wealth of experience in education to their roles. The years in education that the Oglala Lakota COunty School Board has between the five board members has to be over 100 years collectively. It is an exciting and learning experience to work with such great people.
Six Schools: Oglala Lakota County includes six schools across the large county we serve. Batesland School in the southeast corner serves about 170 students each year from Preschool through 8th grade. It is home to our Online Academy this year which includes students in Kindergarten through 8th grade who are working online this year. We have a full team of teachers working specifically with our online students each day. Batesland is also home to our first daycare center. Through great cooperation with OST Childcare, we are able to provide daycare for staff within the facility. Little Eagle's Nest Daycare has been a great employee benefit for the employees at Batesland. We are hoping to grow the daycare option to the other schools very soon.
Batesland is also home to the main site of the Virtual High School. The Virtual High School has been running for 14 years and serves students in 9th-12th grade who work virtually to get their high school diploma. We have additional sites with VHS support at Red Shirt, Rockyford, Wolf Creek and Lakota Tech High School.
Red Shirt school in the northwest corner of the county serves K-8 students and enrollment runs from 40-75 students each year. Red Shirt is a full-service school busing from Oglala each day.
Rockyford School in the northeast corner serves students from Preschool through 8th grade and is our Lakota Immersion School. Each grade level includes one teacher who focuses on conversational Lakota throughout the day in the instruction. We are excited to provide this opportunity for language usage for students. It is encouraging for students and for staff to increase their speaking abilities.
Wolf Creek in the southwest corner is the largest school in our county, serving 600 plus students each year. An amazing feat each day is the transportation team at Wolf Creek as they roll out for student drop-offs each afternoon. The coordination of classes, teachers, bus drivers, food service, custodial, maintenance, and all others activities that happen at Wolf Creek is amazing.
Lakota Tech High School which shares the Wolf Creek campus serves 9th-12th grade students. Enrollment at Lakota Tech is 350 plus each year. This is Lakota Tech's 3rd year. We graduated over 30 seniors in May 2022. Lakota Tech continues to grow and expand the Career Technical Educational opportunities each year. We are offering health, business, law, and media, and continue to work towards construction and auto as we grow and expand.
CONSTRUCTION: We have many projects going on in our district and I am happy to be learning, guiding, and celebrating the changes. Lakota Tech High School has construction going on as we work to expand another wing to accommodate students. A big piece of the addition will be a daycare to help students interested in Early Childhood get a head start while in school.
Construction is also underway at Wolf Creek School as we seek to expand and create a kitchen cafeteria to feed the largest K-8 elementary school in the state. The new section will include the kitchen and a multi-purpose room that will serve as a secondary gym when needed.
Across the road from the Wolf Creek/Lakota Tech facilities, is our housing complex. We plan to add more than 50 homes for teachers and staff in the next few years. We are happy to open up the first of the apartments for the 2022-23 school year.
Other projects include improvements at Batesland, Red Shirt, and Rockyford. We are also excited to announce we will be adding outdoor classroom spaces at all elementary schools in the next year. These spaces will have student activities, but will also allow classes to be held outside when the weather permits. We are excited to bring these to our elementary schools.
EDUCATION: The past few years have impacted education across the world. As we resume instruction, our teachers, instructional coaches, paras, principals, and all others will be working with students to help them meet grade-level tasks and advance as we make plans for the best course of growth for each student. We have some assessments scheduled throughout the year to help us focus on areas students really need. Our early-out Fridays are built into the calendar to allow teachers time to look at the data and make great plans for students.
MISSION STATEMENT: To Strengthen the Lakota identity and values of students and to assure their overall well-being and academic success. As we seek to reach the specific pieces of the mission statement, we are going to work very hard on establishing a time each more to focus on the Lakota identity, safety, and security. We are making our schools as safe as we can. This year we installed metal detectors to keep everyone inside safe. We have a great team of Security Resource Officers to further assist with student and staff safety. We are also working on support through counseling both in person and via telehealth to help the emotional and mental aspects of student safety. We are striving to realize the whole child and Lakota identity of the student. It is my belief that if we can help students feel safe and secure at school, we can open their brains to learning.
MOTTO: Our motto this year which began as the school motto for Rockyford is:
Every Child, Every Day, Whatever it Takes - Waya'wapi Iyu'ha Anpe'tu Iyo'hila Ta'ku ke'eyas.
This year we will strive to reach our motto and when we fall short, we will strive to reach it again. It is through our determination in getting through our failures that we will find success and strength.
I'm happy to be here,
Connie Kaltenbach
This year we will strive to reach our motto and when we fall short, we will strive to reach it again. It is through our determination in getting through our failures that we will find success and strength.
Connie Kaltenbach